"Mom, I wanna be in your blog!"
Dear all of you
, thank you so much to everyone who wished me a
happy birthday
. I'm finally in my twenties and I gotta say, I feel quite older. No more "teen" tacked onto my age. So thank you to you guys, you were all super sweet!
Dear weather man
, get your shit straight and let me know what the weather is
actually
going to be like. Saying it's going to be 90 then having rain and wind instead just isn't cutting it for me.
Dear new popcorn popper
, you do wonders. Nuff' said.
Dear body
, why do you continue to kill me in my back area. I'm twenty, not 100. I understand I have horrible posture and I'm a little busty, but that's not my fault. Well the posture is, but still.
Dear the next two weeks
, you may fly by as fast as you like because I cannot wait to go camping. Campfires, s'mores, and beaches, the three best things anybody could have.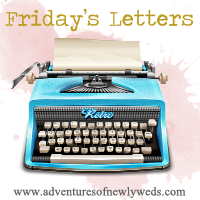 Happy Friday everyone,
have a wonderful weekend!